My biggest accomplishment yesterday? Moving from the bed to the couch. I did finally put on clothes and run some errands. I even baked cookies. Oh, a damp moped the floor. It sounds like a lot, but I promise, it was actually a thoroughly lazy day. I mean, I finished season two of
Pretty Little Liars.
And started season three.
Which I plan on watching much more of today. It's a problem.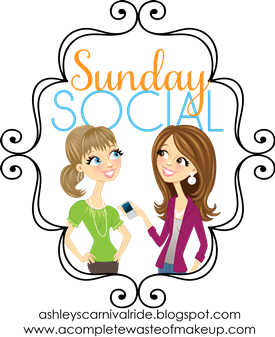 I haven't linked up with Ashley and Neely for
Sunday Social
in a while. Today's as good as day as any to change that.
1. What is something you've always wanted to do but are afraid of?
Travel alone. I think everyone should take some crazy trip alone. I'd love to hop on a plane and go to Europe, spent a week or two exploring London, Paris, Madrid, anywhere. But I'm a bit of a chicken. I'll go to dinner alone, attend a concert alone... Travel to a foreign country by myself? I have a list of reasons a mile long as to why it's a terrible idea and talk myself right out of it.
2. Where do you see yourself in five years?
My ideal scenario? Married with a kid or two. In a perfect world, I'll be a stay at home mom, maybe doing some consulting or freelance work from home. I'll be okay with continuing to work in the marketing agency however.

3. What are you looking forward to before the end of 2013?
All the excitement of joining Junior League, going to Boston in October and Knoxville in November, exploring all the fun things to do around my hometown in the fall that I haven't been here to take part in for years...
4. What are your hopes for your blog?
My hopes are for my blog to continue to grow and reach people, lead to other writing opportunities and start earning a little money on the side. I'm not talking even a part-time job salary, but a little extra dough each month wouldn't be awful.
5. Do you always see yourself living in your current town/city?
Right now, in this very moment, yes. I can't say I'd never move away again, but after being so far from my family for the last five years, it would have to be something really special, like a dream job or for love, for me to relocate.
6. What is your morning routine?
Hit the snooze button 245205 times, snuggle with Knox, shower, eat breakfast, go through the hair/makeup routine, get dressed, tell Knox to be a good boy, and drive the five-ish minutes to my office.
What is the one thing you'd like to do that you're afraid of doing?
Happy Sunday, y'all!